Hotel Karabo
13 rooms and 4 studios for 2-4 with private balcony with astonishing view, bathroom, air conditioning, television, completely equipped cooker, telephone, safety box and mini bar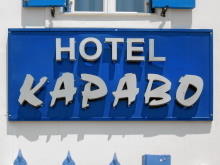 Hotel Karabo
In a splendid place is found Hotel Karabo!
Under the bright sky and right next to the deep blue waters of the magical island of Astypalaia we are waiting for you to meet the absolute relaxation.
HOTEL KARABO is marvellously placed in small distance from the more secular and more organized beach of Livadi, near in Chora. The beautiful settlement of LIvadi is found in the Western side of island that is been famous for the clean waters, the splendid sandy beach and the impressive geomorphology. Our new – built hotel (manufacture 2006) is built maintaining its traditionally its islander character offering unique comforts and services. The thirteen rooms and four studios of the HOTEL KARABO are completely equipped in order to satisfy the wishes and the needs of the most exigent visitor. All the rooms of the hotel allocate private balcony with astonishing view, bathroom, air conditioning, television, completely equipped cooker, telephone, safety box and mini bar.
Hotel Karabo

Livadi

GR-85900 Astypalaia

Greece
Phone
+30 22430 61782 or 61783
Offseason phone
+30 210 4280255
Fax
+30 22430 61073
Offseason fax
+30 210 4280629
E-mail
Website
Owner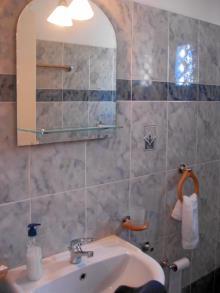 a bathroom
a bathroom
for the barbecue
at the reception