Camping Astypalaia
Camping site with 120 pitches for tents, Caravans and Campers.
Facilities and Services:
- Toilets and showers with 24 hours hot water
- Electricity
- Dish-washing area
- Kitchen
- Mini market
- Restaurant and bar
- Television
- Barbecue
- Telephone
- First Aid
- Free transport from Astypalaia Port to the Camping
- Safe deposit boxes
- Tent rentals
The beautiful and quiet Camping site of Astypalaia is all around shaded by bamboo and trees. The pebbled beach is just across the road! An ideal environment to relax and enjoy your stay. It provides, of course, all the necessary facilities and services.
There is a bus stop right at the entrance of the Camping site. Pera Gialos (port area) and the Chora are just 2,5 km away. Livadi village is about 4 km and Maltezana village about 6 km away.

Camping Astypalaia

Marmari

GR-85900 Astypalaia

Greece
Phone
+30 22430 61900
Mobile phone
+30 697 303 7710
Owner
Manolis Kalis

the taverna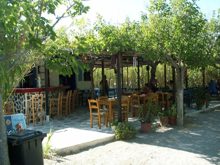 the taverna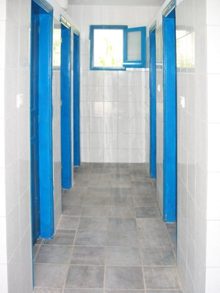 a bathroom

the toilettes

inside the bathroom