Arhitektoniki Studios
9 Studios for 2-4 persons with bathroom, full toilette, air condition, TV, ISDN Tel lines, and swimming pool
At Ag. Baseless of Leivadi 2 km south west of Astypalaia-Hora, above the most beautiful beaches of the island, we have created the "STUDIOS-APARTMENTS ARHITEKTONIKI".
They consider a neighborhood of 9 independent small houses with 1 or 2 places, traditional sofas and sittings, with separated yards-verandas, where can stay up to 5 persons.
Even though brand new (first open August 2002), they are absolutely traditional, with the interior arches, the wooden or stone beds, the wooden beams on the ceiling, the cotto or the brick sittings inside and outside.
We didn't forget anyway, the modern demands for comfortable and relaxing vacations, still for those they prefer the feeling of their home, and so they are equipped with kitchen -sitting, full toilette, air condition, TV, ISDN Tel lines.
For meeting other people or for the enjoy of ouzo with your friends, we have made a small café ("kafeneion") with backgammon and home cinema.
Full breakfast (home made products) is served either at kafeneion or at the terrace beside the pool or even at your own apartment.
And if you get lazy going to the beach you can swim in the swimming pool or lay on the relax chairs enjoying the magnificent view as the moon rises behind the medieval castle or over the archipelago.
We invite you to feel exclusively in a place where there are moments waiting to live for and "ARHITEKTONIKI" is the best place to be and look for them.
Dogs, cats accepted, if they are friendly.
Studios Arhitektoniki

Livadi

GR-85900 Astypalaia

Greece
Phone
+30 22430 61339
Phone
+30 22430 59830 or 59831
Fax
+30 22430 61539 or 59832
E-mail
Facebook
Owner
Nikolaos Komineas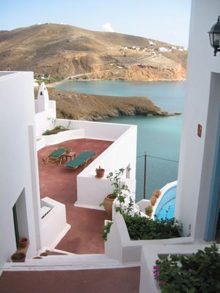 outside sitting area
the studios
inside
inside